UPDATE 8/24/16-
Marrow is now permanently closed.
Marrow Kitchen Bar
2717 6th Ave
Tacoma, WA 98406
(253) 267-5299
Hours- 4:00 PM-2:00 AM, Tuesday-Saturday
Closed Sunday and Monday
21 years and over
Back in the day, when I first moved out of my parents home, one of the places I lived was a house down on 6th and Trafton in Tacoma. At that time, the neighborhood was kind of rundown and seedy... lots of empty storefronts, and the businesses that
were
open weren't the kind of place you really wanted to go as a young adult. After living there for a couple of years, my then husband and I moved north and never really paid the old 'hood much mind.
Nearly 30 years later, a great revitalization has turned this neighborhood into a trendy place to eat, drink, and have fun into the wee hours... hours that we wouldn't have been caught dead wandering around back then. Part of the rejuvenation is due to a restaurant that I've been waiting for months to open... Marrow Kitchen Bar. If you read this blog at all, you know I started posting about it as soon as I heard it would exist. Brian and I were finally able to eat there on Friday, August 19th.
We stopped on our way through Tacoma, headed out to our ten day vacation at the lake. Since I wasn't exactly sure if we would be leaving Thursday or Friday, I didn't make a reservation. That was almost a big mistake. We walked in at about 6:45 and the place was packed. Fortunately for us, a table opened up right as we got there (if we were to plan dinner on a Friday or Saturday in the future, I would definitely call ahead). Our table was basically in the middle of the place, so we had a good view of everything going on. The space is open and inviting, whether you're a large group or it's just the two of you. I wish I would have taken more photos of the space itself, but it was quite busy and I didn't want to distract the other diners with my flash. I particularly liked the "wall" of clear glass bottles separating the entry from the dining room and the clusters of bare light bulbs creating "chandeliers".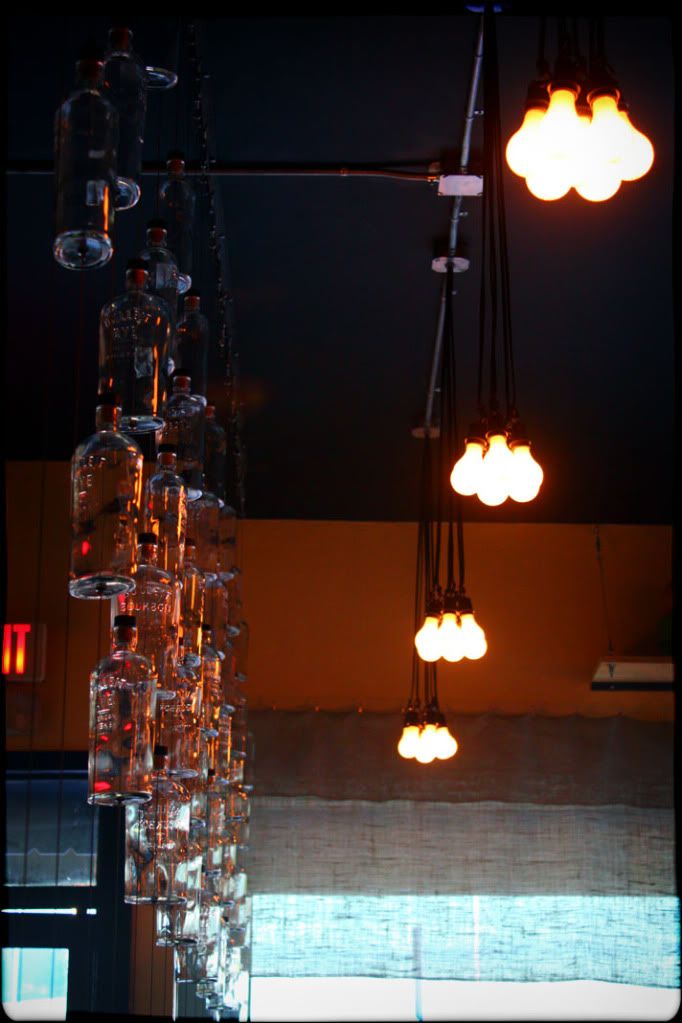 Although it could get quite noisy at times, we attributed that mostly to the acoustics of the room. It was never uncomfortably loud... it was just the sound of good friends having a good time.
One of the things Marrow is known for is their craft cocktails. As much as we wanted to try several of them, we stuck with our favorite beer and focused on the food, which is locally sourced whenever possible. The other thing is their distinct separation of meat and vegetarian menus, to the point of actually giving each menu a separate name... meat dishes are on the Marrow menu... flip it over and vegetarian dishes are on the Arrow menu. We ordered from both.
We walked in with basically no budget, just ordering anything and everything that looked good. The one thing that I had long-before decided I must have was the oxtail cake topped with fried duck egg.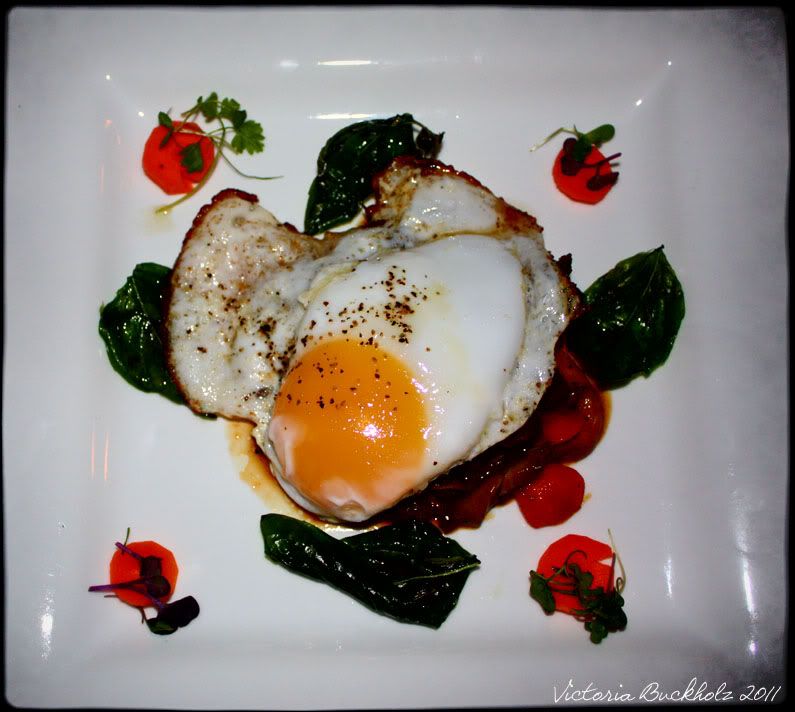 I had heard several times it was something spectacular, and it definitely did not disappoint. Garnished with micro greens, carrot slices, and crispy fried basil, it is an unctuous, succulent, nearly decadent thing to behold. I drool just thinking about it. The tender shreds of beef are bathed in a rich demi and the duck egg yolk oozes perfection... literally. It may have been my favorite dish of the night.
The other appetizer we ordered was the Oregonzola-stuffed fried squash blossoms...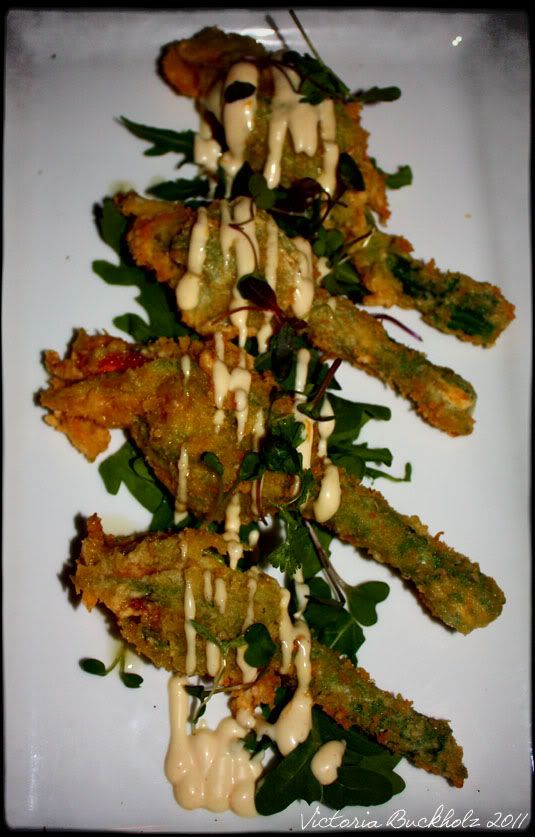 Another beauteous creation. Generous bites of tangy bleu cheese stuffed inside squash blooms, lightly breaded and fried, topped with a spice orange aioli.
Next we had the watermelon salad...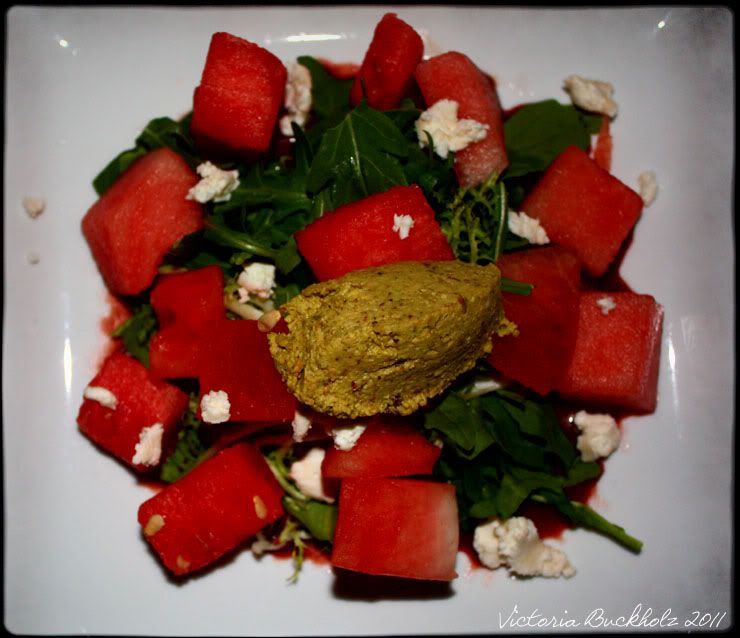 After the richness of the first two dishes, it was an excellent next course. Juicy chunks of watermelon over a bed of arugula dressed with a cherry balsamic vinaigrette, topped with crumbles of chevre and a dollop of pistachio butter. I could eat it all day.
For my entree I ordered the scallops. They were seared perfectly medium rare, served on a mound of quinoa with carrot jus, with a shaved fennel and celery salad, all sprinkled with black sea salt...
I recently heard someone on TV mocking restaurant ads where people close their eyes because the food is so good. They said something to the effect of "Does anyone REALLY do that?" Let me tell you...
yes I did.
Brian ordered the seared duck breast with rhubarb/tamarind sauce, yukon gold puree, and broccolini, garnished with pistachio dust...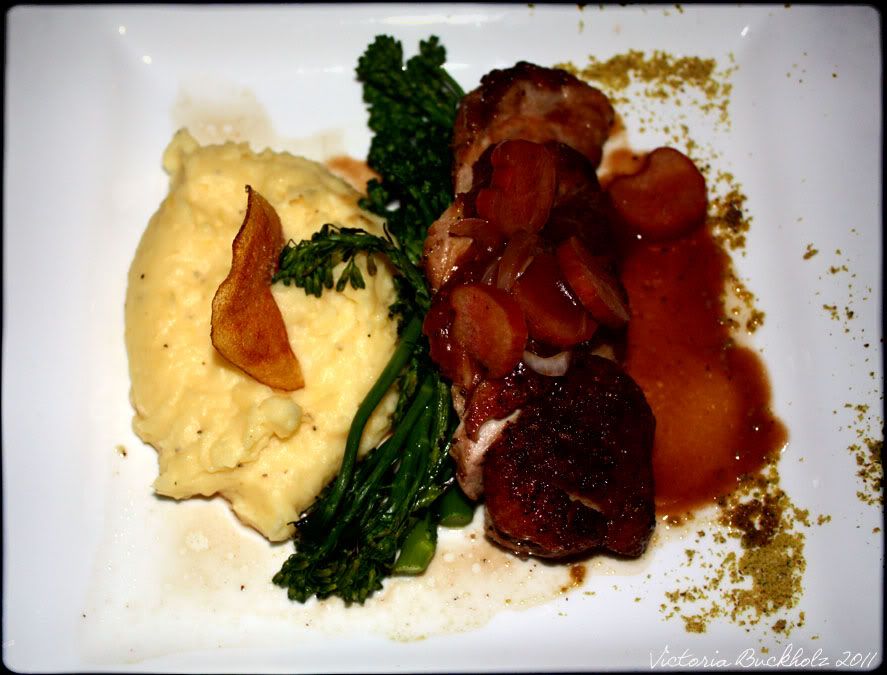 I'm not a fan of duck, but I figured if there was ever a place that would do it right and convert me, it would be Marrow. I had one bite from the end and it was... okay. Far better than the gamey, greasy fowl I'd always had in the past, but nothing that would make me order it again. Then... he handed me a bite with the seasoned skin still on it.
Okay. I was wrong about duck. It was awesome.
For dessert, Brian ordered the french vanilla ice cream with fresh peach sauce and hazelnuts...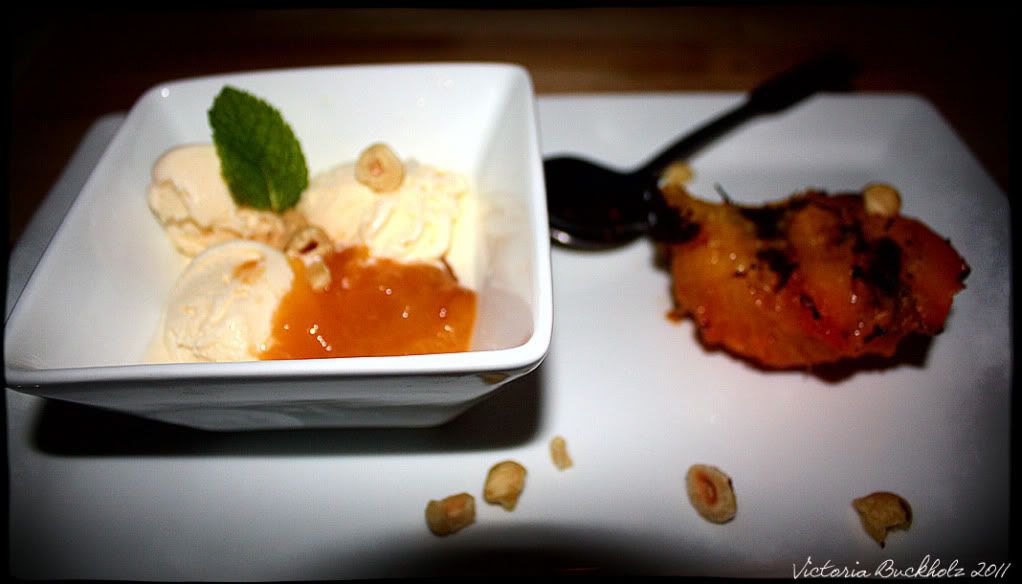 I ordered the brownie with raspberry chipotle sauce...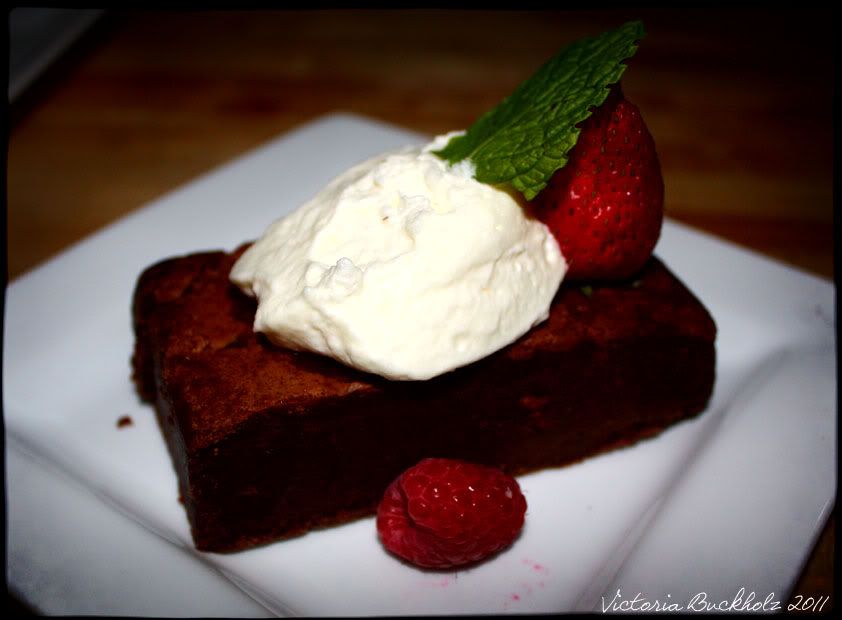 My sauce seemed to be missing, but I didn't really care at that point. The whole meal experience was borderline epic, and we were happy. The waitstaff are wonderful. Our server was attentive without hovering, and our meal was perfectly paced, especially considering how busy they were at the time. Co-owner Jamie Jones came by our table several times to make sure everything was okay. We can't wait to go back for their late night happy hour (10:00 PM to 2:00 AM)... I've heard tell of special menus and reduced price drinks...